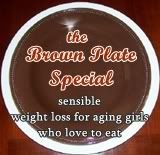 as of Sun night I was 1.2lbs lighter....as of Mon night (the OFFICIAL weighin) I am the same. Exactly the same as last Mon. :-P
Gonna try and walk more this week. Will let you know how that goes.
MAGIC MOMENTS MONDAY!
Over the 10+ years that Subvet and I have been together he has sent me many many flower bouquets. Each one came with a well worded, heart felt message on the card. I have kept every card. A few are on my mirror, such as "Where ever you go, that's where my heart is." and "You're the best and that's what you deserve." There's also the one I got while in a particularly bad work situation that said "Remember, kick butt and take names....and if you get busy then don't bother taking names." (I think I blogged about that situation once, but can't find the post amongst all 370 of my other posts......danger of being prolific I guess)
Just little words of encouragement from the hubby that brighten my day.
What gets you through a tough day??
Go to
Scraps
and let us know!!