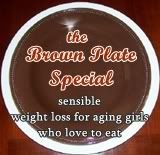 I've followed
Ellen on her Brown Plate Journey
for awhile now and decided that I would jump in.
I have been ~ahem~ "working" at losing weight for 2 months now and am exactly 4.5lbs lighter....this means I've actually gained over the last month.
That cute picture is a button that will take you to the rules of this shindig, but basically it means that we are trying to lose weight by eating off of smaller plates, thereby "get portions under control and begin to lose weight without giving up cooking and eating the foods we love."
AND "Since accountability is essential in such matters, I'll be weighing in every Monday morning and I'll confess my weight loss (or lack thereof) in a regular Monday morning post."
Well, y'all know that Monday morning posts from me could come at any time during a week...but I will try to post my ups and downs weekly.
So, who's gonna jump in there with me?? Come on now.....hold your nose...close your eyes....and ....JUMP!!