I'll actually go in order this time as that would be quite different for me!
:-)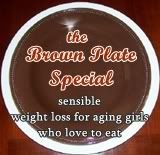 OK, now, I FINALLY made it past that zero!! Don't know why I got stuck sitting on that zero for so long, but as of now I have lost 9.1 lbs.
So our boys had their end of school program last Thursday. It was sooo cute! It lasted 10 min total! :0) (Perfect!)
They said the Pledge of Allegiance, sang a couple songs together, then each class (all 6 of them) sang a song then they all sang another song, one of their Spanish songs and said goodbye!
So, Subvet and I joined the Parent Paparazzi
It's nice to see someone else Gator-wrastle for a change! Notice how she has those hips anchored? She's a PRO!
Sonshine's class sang "ABC Rock" here you can see "Joe Cool"
Here's that sunrise I told you about, one of the day nurses said it was like driving to work under a big mattress the clouds were cool! This is the view from my floor.
I thought the way the sun hit the hallway was pretty
"You Gotta Have a Hat!" who can name the singer of that song?
FAT ROLLS!!
Now, we all make mistakes, but why is it so hard to forgive ourselves? We're quick to forgive others, as the Lord is quick to forgive us, but we're not nearly so quick to forgive ourselves.....??? any thoughts?